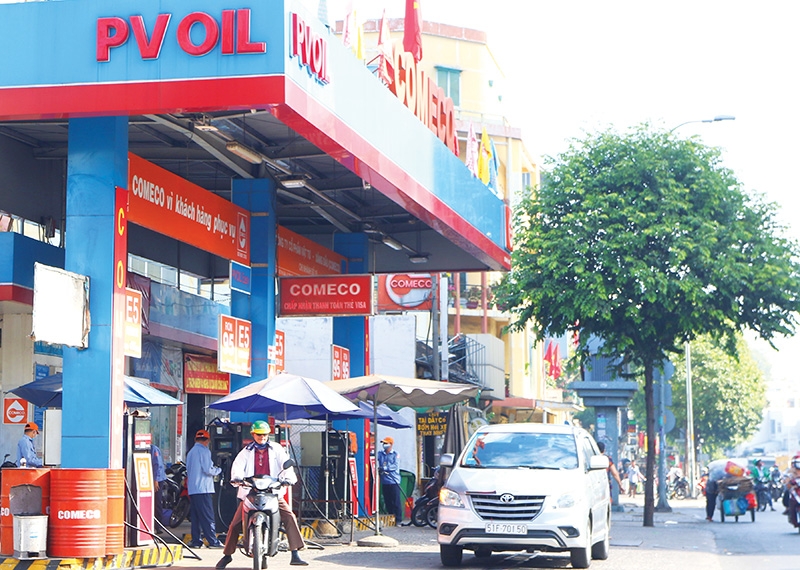 Despite global oil prices experiencing a tumultuous week due to the huge drop in Chinese oil demand, some Vietnamese oil and logistics businesses remain positive about the future.
Following the coronavirus outbreak, global oil prices have suffered a sharp decline, with the price of crude falling to a year low on February 4 as traders reacted to the magnitude of the health crisis in China. Brent, the global oil benchmark, fell by 1.3 per cent to $55.91 a barrel in the afternoon, and West Texas Intermediate dropped as much as 2.2 per cent, trading 0.5 per cent lower at $51.33.
China is in oil oversupply as the spread of the virus has hampered travel demand in the country. Bloomberg pointed out that Chinese crude need has fallen by about three million barrels per day, equal to 20 per cent of total consumption.
China-based oil and gas company Sinopec Corporation was forced to cut about 600,000 barrels per day in February, or 12 per cent – the biggest drop in the last 10 years. Moreover, nearly 20 independent refineries in the eastern area of Shandong have reduced operations by 30-50 per cent over the past few weeks.
The Organization of Petroleum Exporting Countries (OPEC) is currently locked in talks over how to deal with the crisis, and is reportedly considering an informal proposal to curb output by about 500,000 barrels a day.
Amid the worrying situation, gasoline prices in Vietnam have recorded a slight decrease since January 31. E5 RON 92 price slumped to VND19,268 (84 US cents) per litre, RON95 went down to VND20,122 (87 US cents) per litre, and diesel oil price dropped to VND16,136 (70 US cents) per litre.
Nguyen Duyen Cuong, deputy general director of Binh Son Refining and Petrochemical JSC (BSR), the operator of the Dung Quat oil refinery, told VIR that as China occupies 17 per cent of global GDP, the fall in oil price caused by the health crisis will keep impacting the local petroleum industry. The oil refineries in the whole world estimate to cut 3-5 per cent capacity, affecting petrochemicals.
"To deal with the burden, BSR will keep boosting negotiations with oil field owners by comparing the common price in the market to get the most favourable purchasing price. Besides this, the company will also optimise purchasing domestic oil to increase profits," said Cuong.
The drop in oil prices has resulted in a shortfall in the national budget. Last year, the government submitted $65 per barrel as an estimate (up $15 against 2017) to the National Assembly. However, the price of crude is currently around $51.
If this downtrend lasts, the country's largest petrol distributor Petrolimex's state budget contribution will drop significantly, impacting the performance of national energy projects. In the event that average crude price falls to $50 per barrel, the national budget will face a deficit of VND10-12 trillion ($435-$522 million). On the Unlisted Public Company Market, on January 31 Petro Vietnam Oil Corporation's stock immediately fell by 7.69 per cent to VND7,200 (31 US cents). As of February 6, its value remained VND7,100 (30 US cents), up 1.43 per cent against the previous day's price.
Meanwhile, on January 31 BSR also dropped by 6.17 per cent to VND7,600 (33 US cents). By the end of February 6, it was VND7,800 (34 US cents), up 4 per cent from the day before. Petrolimex is in the same situation. On February 6, its stock rose by 0.97 per cent to VND52,000 ($2.26) despite a fall of 4.33 per cent on the last day of January.
Experts cited progress in the race to develop a coronavirus vaccine as the main reason behind the modest upturn of the oil market, with the morning of February 6 seeing a recovery of 2 per cent.
Francis Perrin, a senior research fellow at IRIS Capital, agreed that crude oil price will continue to nosedive if the number of infection cases sharply increases. Nevertheless, Perrin predicted the epidemic would only have a short-term effect on the industry, as "China has to consume oil, and the Chinese economy will be forced to recover, so the price will recover in the long term."
Contrary to China's 85 per cent decline in traffic capacity, the travel and logistics industries in Vietnam have yet to experience much impact from the oil price decline. Na Ji Won, general director of South Korea-based logistics firm H&Friends, told VIR that although global crude oil price is falling sharply, it has yet to affect transportation costs.
"Logistics is one of our main activities and currently, the cargos we transfer by air or by sea still cost the same even though crude oil price has gone down. When gasoline prices rise, the carriers will add to the cost," said Won. "Even if gasoline prices fall, transportation prices might not decrease as the market price fluctuations are a distinct possibility."
A representative of Haiphong Bus Transport Co., Ltd. also said, "The slight decrease in oil price has not been enough to impact our business, but the outbreak has raised fears among the public, leading to a recent reduction in passengers."
Source: Vietnam Investment Review